AUTHENTIC IN ALL CAPS is a comedic web audio adventure about the meaning of death for your Chrome browser, or the iPad (no-longer available on iPad as of 25th Feb, 2017). The soundtrack and code to make you own web audio tour are also available. There is also a 'Making-Of' diary, and the full writing script [PDF].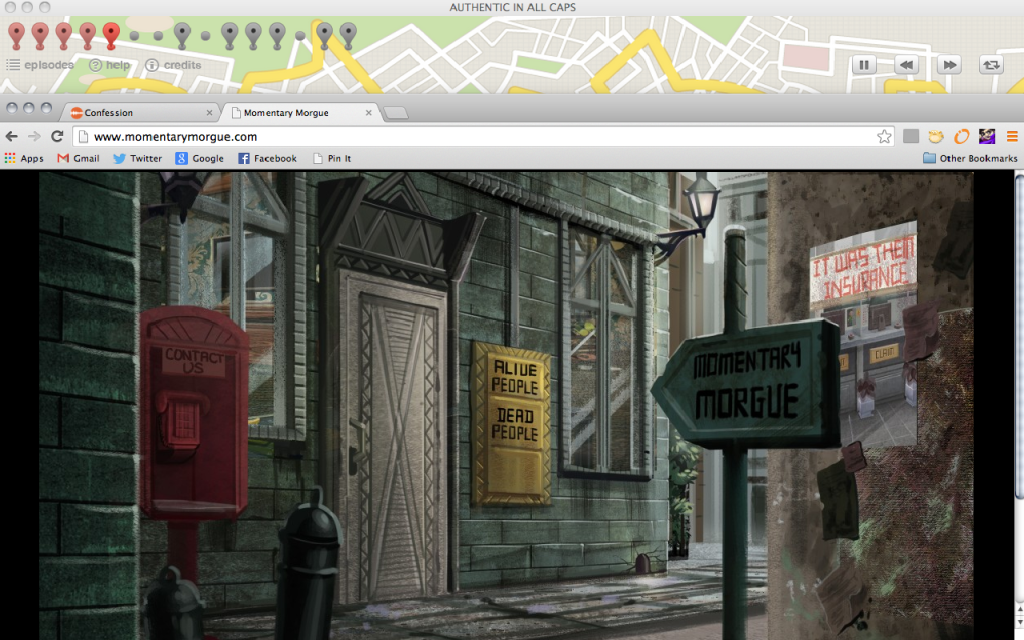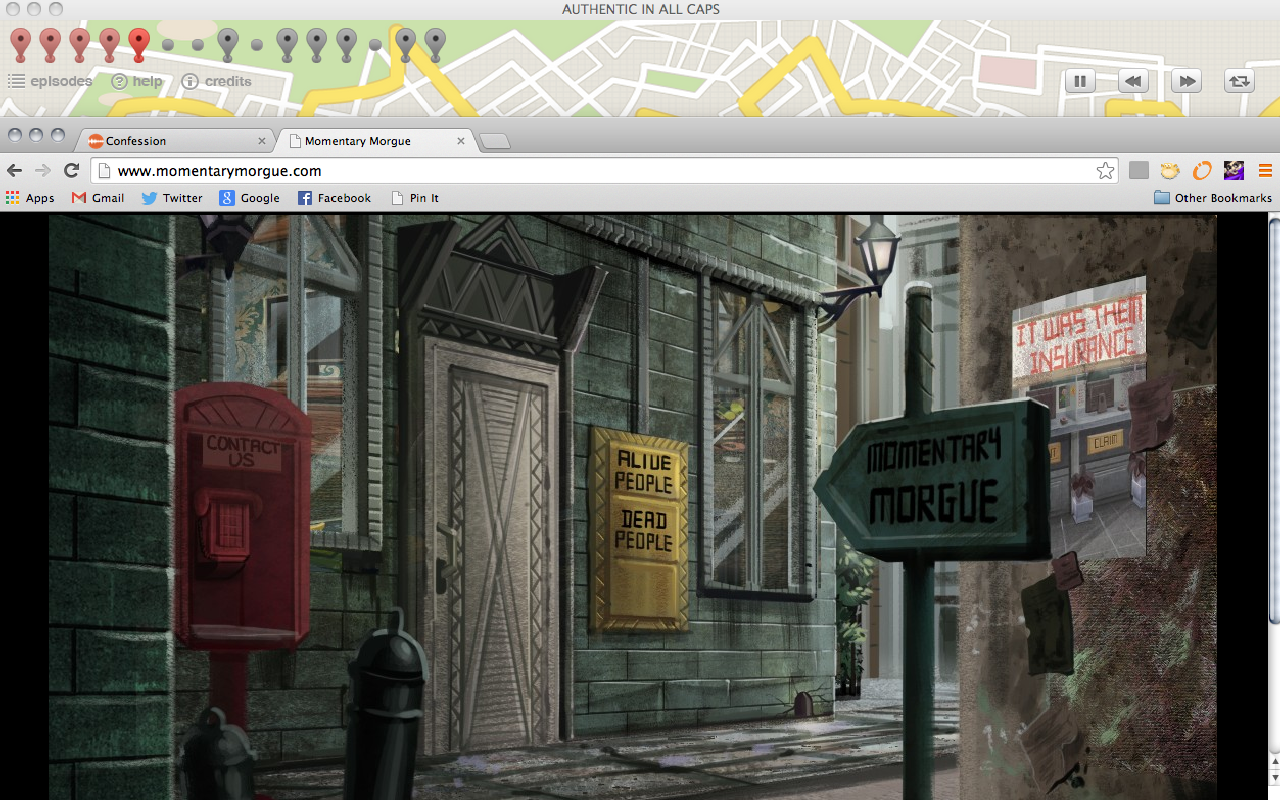 AUTHENTIC won the 2014 WA Premier's Prize for "Digital Narrative", and the 2014 Australian Writers' Guild Award for "Interactive Media"; and was Official Selection for the 2014 Electronic Literature Organization's Media Arts Showcase. An early prototype was Finalist for "Best Writing in a Game" Award at the 2012 Freeplay Independent Gaming Festival, the crowdfunding campaign attracted supporters from 14 countries, and we were awarded a grant from Screen Australia's multi-platform drama fund. The University of Southern California included AUTHENTIC in their elit reading club.
The project is a playful comedy drama for your Chrome Browser or iPad. It is inspired by audio tours, radio drama, and alternate reality games. AUTHENTIC IN ALL CAPS is an audio drama that plays while you visit fictional places on the web.
Players follow the experience of Pathologist with a past as an Underworld Philosopher take on a bet to find the meaning of death. Despite help from her part-time Time Traveling Assistant, she finds her investigation upsets fellow Gambling Philosophers, Ticket Inspectors, Artist Assassins and the Quantum Theorist Crime Boss. Ultimately, her inability to fit in makes everyone involved…really annoyed.
"The writing, the visuals and the music created for AUTHENTIC IN ALL CAPS are of the highest quality and are delightful to experience"
The Conversation
"One of the most interesting uses of apps for storytelling we've seen in a while"
The Appside
"If video killed the radio star, then an App might just revive them"
QUT Media
Team:
Christy Dena – writer, designer, producer, director
Trevor Dikes – sound designer, composer
Yangtian Li – illustrator
Craig Peebles – app programmer (iPad)
Andrey Ivanov – app programmer (Chrome browser plug-in)
Elroy – app interface & logo
Cast:
Jimmy James Eaton – Narrator + Underworld Goon
Alison Richards – Pathologist
Nadia Collins – Assistant:
Adam McKenzie – New Client
Ben McKenzie – Ticket Officer + Philosopher Gambler
Stefan Taylor – Philosopher Ex
Richard McKenzie – Artist Assassin
Tegan Higginbotham – Quantum Pizzeria Waitress
Kevin J Powe – Quantum Boss + Philosopher Gambler
Full credits and more information at the project website
Full Writing Scripts [PDF]
Press: 
The Conversation, 'We Are Our Stories: Australian Reading Experiences in 2013' – Donna Hancox, 20 Dec 2013
QUT Media, 'Radio plus App equals cutting-edge storytelling' – Amanda Horswill, 3 Dec 2013
StoryCode Immersive Media Dispatch, 'StoryCode: Of Note' – Michael Knowlton, 3 Dec 2013
The Literary Platform, 'Bias in full effect' – Dr Lee McGowan, 22 Oct 2013
Stellar Network, 'Get Inspired: Authentic In All Caps' – Sam Howey Nunn, 27 June 2013
SynMedia, 'Interview: AUTHENTIC IN ALL CAPS with Christy Dena – Mark, Georgina, and Beth, 5 March 2013
Screenplay (The Age, SMH,Brisbane Times, Canberra Times, WA Today, Parks Champion Post) 'Tuesday Newsday: Sequels, crowd-funding, and the next Xbox' – James Dominguez, 5 March 2013
GrassisLeena, 'It's my blog and I'll plug if I want to' – Leena van Deventer, 28 Feb 2013
Screenplay (The Age, SMH,Brisbane Times, Canberra Times, WA Today, Parks Champion Post) 'Authentic In All Caps: A Conversation with Christy Dena'- James Dominguez, 27 Feb 2013
HenryJenkins.org, 'How sound can "unify" transmedia: Christy Dena on AUTHENTIC IN ALL CAPS' – Henry Jenkins, 27 Feb 2013
Toenella, 'AUTHENTIC, she said, IN ALL CAPS' – Haley Moore, 26 Feb 2013
The Film Collaborative, 'Crowdfunding with Pozible' – Sheri Candler, 25 Feb 2013
Zakelro, 'One clear reason for the no buy list' – Corvus Elrod, 24 Feb 2013
Transmedia Storytelling Berlin, 'Crowdfunding Authentic in all caps' – Patrick Moller, 22 Feb 2013
Writer Response Theory, '1 of WRT Goes Authentic in ALL CAPS' – Mark Marino, 22 Feb 2013
Remote Device, 'AUTHENTIC IN ALL CAPS: A web audio adventure' – Jeff Watson, 21 Feb 2013
SheriCandler.com, 'Cross media from Australia-AUTHENTIC IN ALL CAPS – Sheri Candler 21 Feb 2013
Wired, 'Kickstarter Alert: Authentic in All Caps' – Daniel Donahoo, 20 Feb 2013
Smart Planet, 'Pozible gives rise to Australian Crowdfunding' – Lieu Thi Pham, 20 Feb 2013
Splash Mango, 'AUTHENTIC IN ALL CAPS: It's Pozible so please make your pledge' – Juliana Loh, Feb 2013
Kevin J Powe, 'AUTHENTIC IN ALL CAPS: A Rather Awesome Project' – Kevin Powe, Feb 2013
Polygon, 'Authentic in All Caps developers raising funds for a web audio adventure' – Dave Tach, 18 Feb 2013
Simon Staffans: Developing Media, 'Loud and Clear: Authentic in All Caps' – Simon Staffans, 18 Feb 2013
Web Series Today, 'AUTHENTIC IN ALL CAPS' – 13 Feb 2013
Courier-Mail March, 2013 (print)
StoryForward Podcast, 'When I Say Their Name Was The Entire Text Of "Atlas Shrugged"' – JC Hutchins and Steve Peters, 8 Feb 2013
The Gadget Club, MyAppleSpace, iPadmodo, Macmodo, The MacTrack, PopularWireless, and SlapApp
Freeplay Newsletter, 'Indie Allsorts Week 1 Wrap Up' – Katie Williams, 5 Feb 2013
Transmedia Storyteller, 'Transmedia Podcast: Christy Dena and Authentic in All Caps' – Robert Pratten, 5 Feb 2013
The Appside, 'Get ready for a "web audio adventure" with Authentic In All Caps' – 29 Jan 2013
RonanLynch.com, 'Authentic in all caps' – Ronan Lynch, Jan 2013
Radio Beyond Radio, ABC Radio National Conference, 'Inside the Development of an Interactive Radio Drama,' – Christy Dena, 12 September 2012
Media Commons, 'Scripting the Journey' – Christy Dena, 24 April 2012
The Arrglington Jump, 'A Year in Showcases (Final Part 4)' – April Arrglington, 2 April 2012
StoryForward Podcast, 'Risks of Creative Versatility, Joys of Street-Level Storytelling' – JC Hutchins, 22 March 2012
ARGNet, 'Prepare Yourself for Christy Dena's New Audio Drama: AUTHENTIC IN ALL CAPS' – Nathan Maton, 5 October 2011
Orange Transmedia Lab, 'Authentic in All Caps: A playful comedy-drama by Christy Dena' – Ana Vasile, 7 September 2011
Transmedia A:M, 'Authentic in All Caps' – Anna Jackson, 5 August 2011
Cinema Autopsy, 'MIFF 2011 Blog-a-thon: Part 15' – Thomas Caldwell, 8 August 2011
Remote Viewing, 'Episode 21' – Elroy, 17 July 2011
Litopia After Dark, 'Trash, Transmedia & Chaterati' – Peter Cox and Nic Alderton, 9 June 2011