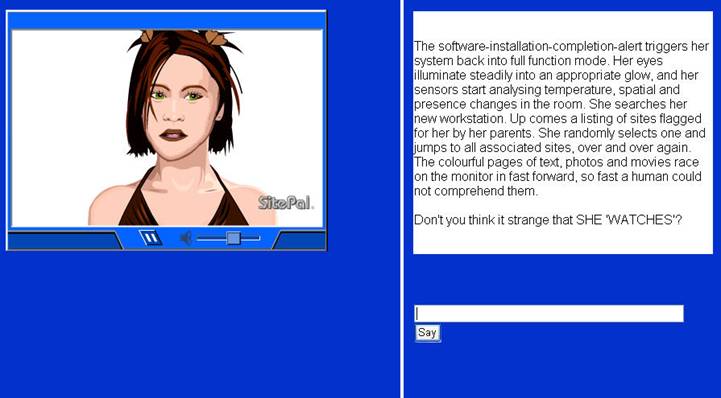 The Villager Girl and the Teenbot is a transmedia short story told over print and a chatbot on the web. The story juxtaposes a coming-of-age story of a villager girl told as a folktale in print, with the coming-of-age story of a teenage robot told through a chatbot (a natural language dialogue engine). At the end of each section in the print story, the reader is called to the web to chat with the teenbot and then return to the book in a cyclic motion. This was my first conscious effort to explore transmedia writing and design principles and began my unending journey into this practice.
An early version of the story was presented as a reading at: The Talk Fiction Colloquium, University of Melbourne and the 2005 Age Melbourne Writers' Festival.
An even earlier version was selected for exhibition and discussion on panel 'Original Hypermedia, Net.Art, Mods, Flash', disjunctions 2005: Theory Reloaded, University of California, Riverside (USA).