Shenanigans is an ambient party game commissioned for my work Christmas party. The organisers wanted some fun game for the staff to play and wanted it to be something accessible for the non-game players in the room. My personal goal was to create a game that anyone could do at any time (ambient), which encouraged co-operation (across different social groups), and which changed the nature of the party substantially (triggered a party atmosphere).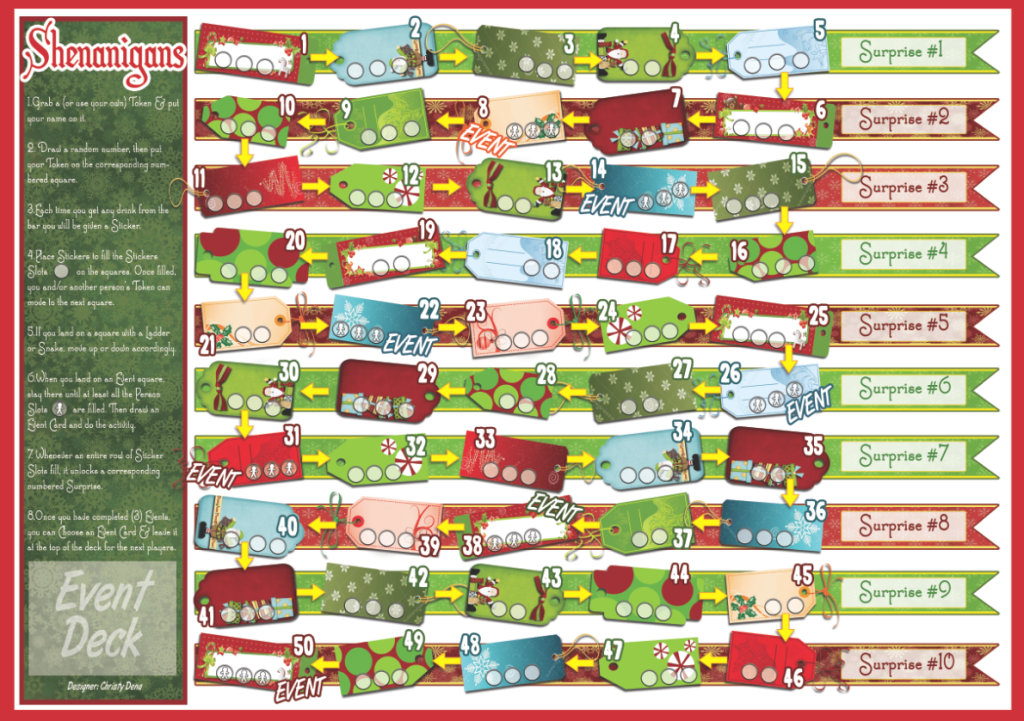 I was inspired by Margaret Robinson's game "Drunken Dungeon" commissioned for NYU 2012 "No Quarter" event. So I used drinks (any kind) as the currency for moving forward. However, I added things like a real world consequence to achievements in the game.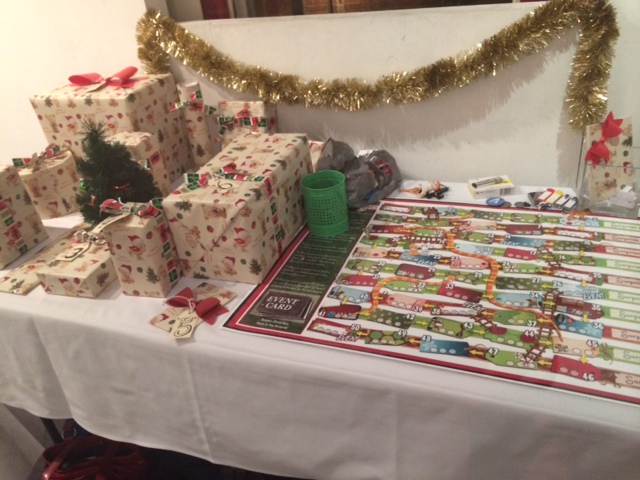 The game rules:
1) Party guests are asked to bring a small token to represent themselves on the board (this facilitates investment, ownership, and identity).
2) Players draw a number (1-50) to discover what square they will start on. You could use a 50-sided dice, numbered chips or a random-generator on your phone. I used 100 numbered poker chips and had the players return their chip to the bowl after each draw.
3) In order to move to the next square they have to fill the circles with stickers. Stickers are given at the bar for any drink issued (alcoholic and non-alcoholic). When the circles are filled, any tokens on that square move forward. What happens is people end up placing them on other people's squares to get them to come closer to an Event square or to fill a row.
4) When anyone lands on an Event square they need to have x3 people/Tokens on the square before they can draw on Event Card (you don't need stickers). Those 3 (or more) players then do the Event (which could be something they do as a group, or something they get other people at the party to do). Once they do the activity they can move on to the next square.
5) Whenever a full row of Stickers is filled, then the corresponding Surprise is opened.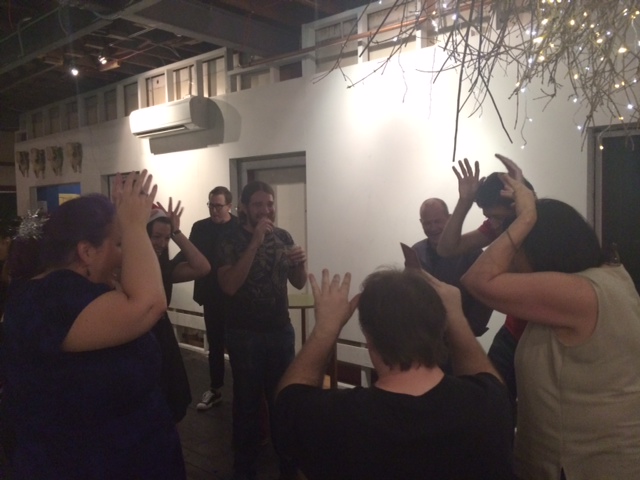 Things you will need: 
* Print out the board [JPG, PDF, PSD] or make your own (and laminate it if you wish — I did). The art was done by Ellen, using images from the web. So please don't charge for it.
* Spare tokens & a marker to write initials on them if they look the same.
* Starting square system: 50-sided dice, numbered discs, random-generator on your phone.
* Stickers to fill the circles on the board.
* x10 Surprises that affect everyone at the party. (Examples include: a box of popping streamers; fake beards; tinsels necklaces; mini-water guns; bubbles; popping plastic…). You will need to label the surprises with numbers (1-10).
* Write up Event Cards (we used 5 events over 3 hours). See ideas below.
* Some spare presents to reward those that win any Events you write (according to whether the group or individuals win).
Ideas for Event Cards: you can change the Surprises and Events according to the theme of your party. The design principle is you create Events that affect the party in some way, and mix up having the Event involve those that draw the card and also having them grab other people from the party to do it. Some examples: 
– Everyone on this square is to grab another person each from the room and get them to dance the Reindeer Dance (you have to make up the moves for them)
– Everyone on this square will a approach a group at the party and challenge them to a multiplayer thumb wrestle…
– Everyone on this square is to take over DJing and get people dancing
– If you're having trouble coming up with Events, check out Hide & Seek's Tiny Games app for great ideas.
I hope you enjoy the game! Let me know if you play it, and especially if you adapt the game in any way. I would love to hear your ideas and see how the game develops!