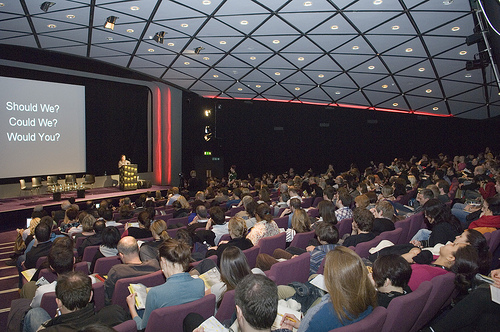 I give talks sharing key insights that have changing my practice, and life. Companies, organisations and events I have given talks for include:
Microsoft
Nokia
ABC
ACMI
AIMIA
Australian Literature Board
Australian Writers' Guild
Australian Digital Alliance
Australia Society of Authors
ACT Filmmakers Network
The Documentary Organization of Canada
International Women in Digital Media Summit, Canada
Transmedia Hollywood, LA
Game Developers Conference, San Francisco
Sweden Games Conference, Skovde
iMedia Brand Summit
TEDx Transmedia, Switzerland
Cinekid, Amsterdam
Cartoons on the Bay, Italy
London Film Festival
Melbourne Film Festival
Australian Film Festival
Revelations Film Festival
Melbourne Writer's Festival
Sydney Writer's Festival
Brisbane Writer's Festival
Emerging Writer's Festival
Freeplay Independent Games Festival
Festival of Ideas, Adelaide
Oz Comi Con…
Also multiple universities around the world. 
SOME PRESENTATIONS:
"Worldbuilding Our World", Sweden Games Conference, 19th Oct, 2018, Skvode, Sweden
"The Secrets to Creating an Indie Game Franchise", Game Narrative Summit, Game Developers Conference, 19th March, 2018 San Francisco, USA
Power to the Pixel, London Film Festival, 22nd October 2008, London, UK. Video of presentation & PPT of presentation & PDF of Spanish translation of presentation by Antoni Roig Telo.
SOME TESTIMONIALS:
"As someone who attend almost every GDC since 2005 – it's hard to continue to find content that is meaningful to me. Christy's talk was just that, great take aways, great presentation and slide deck."
"Totally dug the style and vibe of this speaker."
"Great talk on an under discussed aspect of fan engagement. Filled to the brim with great examples and well-delivered information, this is a talk I look forward to going back and watching again."
"This presentation was filled with mind blowing useful information that was clear and easy to understand. Love the art from the slides. Speaker knew what she was talking about. Definitely invite back!"
"Thanks for a really informative and inspiring two days, and thanks for the book. This isn't just lip service – it was one of the best delivered screen industries labs/workshops I've been to."
If you're keen to book me for your event, email me at christy@universecreation101.com.